For further enjoyment and convenience Mystic River Homes Congregate housing has…
Amenities:
Full meal served daily at noon
Weekly social, cultural and educational activities
24-hour emergency response system
Weekly Transportation to local shopping
Weekly light housekeeping service
Heat included
Beauty Salon for men and women
Laundry room on each floor
Household pets allowed
Live-in Superintendent
Elevator
Apartment Features:
Fifty one-bedroom apartments, 700 sq ft each
Fully applianced kitchen
Living/dining room with picture windows
Full bath
Ample storage
Individually controlled heating/air conditioning
Wall-to-wall carpeting
24-hour on-site emergency alert and response system
Cable TV hookups
Sprinkler system
Patios with ground-level apartments
Common Areas:
One big-screen TV Lounge
Multi-purpose activity rooms for crafts and workshops
Regular health screenings and clinics
Surrounding outdoor walking paths for safe, easy walk
Reflection Garden
Dining Room
Library
Woodworking Shop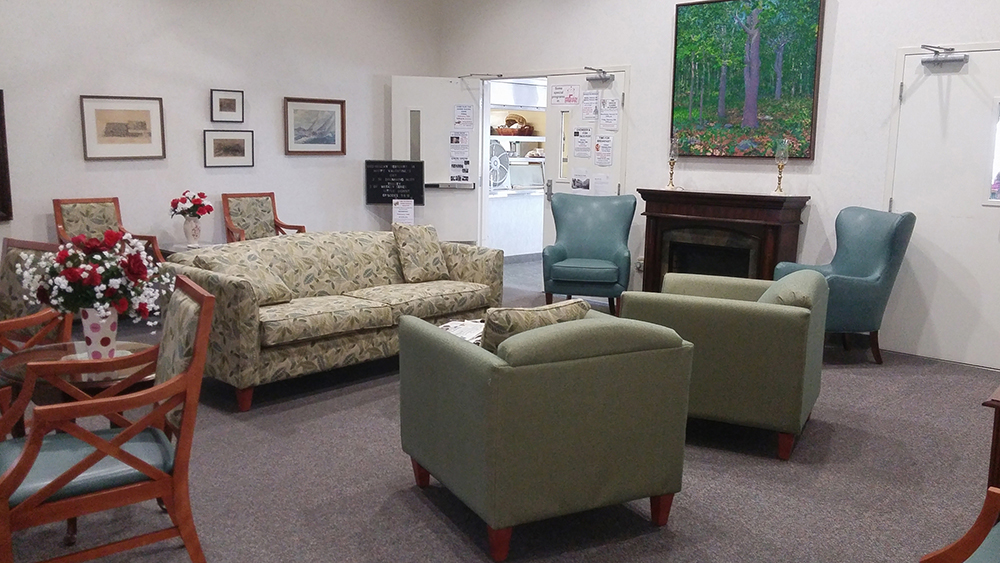 FAQs
What is Mystic River Congregate?

Mystic River Homes Congregate is an independent living community for adults 62 years or older in Southeastern Connecticut. Built in 1992 it is owned by Mystic River Homes, Inc., a non-profit organization. The community is funded by the Connecticut Department of Housing.
Is Mystic River Congregate affordable?

Yes. Residents income from all sources is limited in 2020/2021 to no more than $54,950 for one person or $62,800 for a couple; adjustments to income for medical expenses are considered. A rental assistance contract with DOH provides funding so that the rent portion for each apartment does not exceed 30% of adjusted income from all sources. DOH also provides subsidy for congregate services, based on state-mandated calculations.
Is there an entrance fee?

There is no initial security deposit, entrance or investment fee. Leases are written for one year but can be terminated for any reason by written notification at least thirty days prior to leaving.
How may I receive more information or apply for residency?

You may request an admissions packet by calling the Administrator at 860-572-6020, or by writing to the Administrator, Mystic River Congregate, 205 Elm Street, Noank, CT 06340. You may also contact us on our website.
What services are provided at Mystic River Congregate?

Our goal is to support the whole person by providing a full range of activities. We offer social and recreational activities, blood pressure screenings, exercise and fitness programs, volunteer opportunities, spiritual programs from multiple denominations, transportation for medical appointments, beautifully landscaped grounds for the enjoyment of nature, art opportunities, musical programs, educational presentations, and an on-site beauty salon.
Is Mystic River Congregate still open to older adults who wish to apply?

The popularity of our community means that as vacancies occur they are filled immediately, but we do keep an active wait list for those seniors interested in applying. Completed applications are accepted and ordered based on the guidelines provided by our Resident Selection Policy as approved by DOH.
Who paid for the building of Mystic River Congregate

Mystic River Congregate has been funded through a vibrant coalition of public and private support from parties eager to meet the changing needs of older adults in our society. Funding sources include CHFA (Connecticut Housing and Finance Authority), DOH (Connecticut Department of Housing), Mystic River Homes, Inc., foundation grants, corporate donations and individual gifts.
How can I help Mystic River Congregate?

There are three important things you can do. First, become an advocate for Mystic River Congregate by encouraging relatives, friends and neighbors to consider Mystic River Congregate when seeking retirement or care options. Second, become a volunteer for this developing and dynamic community. Finally, become a generous supporter of Mystic River Congregate! As a registered, not-for-profit 501 (c) (3) corporation, we rely on charitable gifts to provide the quality of life "extras" which are not funded from any other source. Click here to contact us about donating to Mystic River Congregate.